16 WordPress experts share their insight about the new WordPress Calypso
16 WordPress experts share their insight about the new WordPress Calypso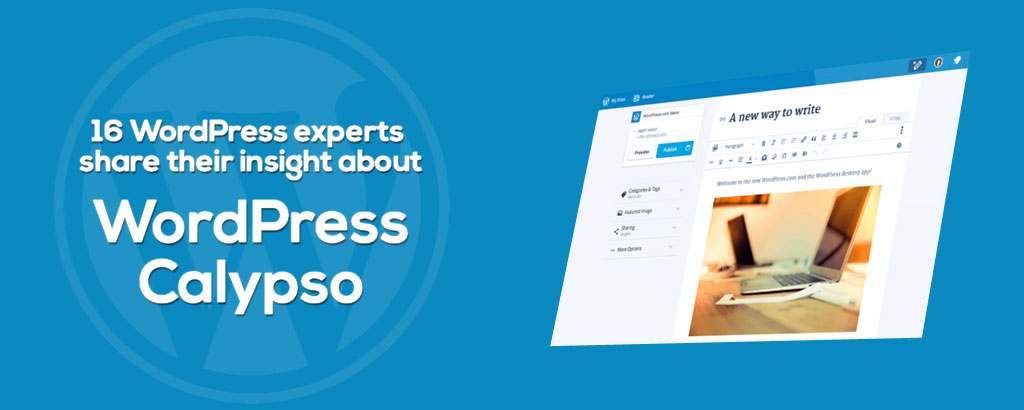 Note: This article is not a review about the new features that come with Calypso. There are already enough other great articles that wrote about Calypso's features.
Let me be honest. Other than what has already been written on other blogs, I don't have much to say about Calypso since I'm not a WordPress.com expert. Every day, me and my team build custom WordPress.org themes, which our clients install on their self-hosted WordPress websites. On November 23, I saw Matt Mullenweg's post about the release of Calypso. After reading it, I thought that WordPress was moving from PHP/MySQL to JavaScript. I just couldn't believe it, so I did some digging on the topic. Soon I found out that Matt was referring to WordPress.com's Calypso and I completely misinterpreted the news, and many others along with me.
I do want to provide you with some general information about Calypso, in case you have missed. But before we dive into Calypso, let's first get on the same page by pointing out some facts that confuse many people:
Calypso is not a part of WordPress;
The WordPress PHP/MySQL back-end is not being replaced with JavaScript;
What is WordPress Calypso?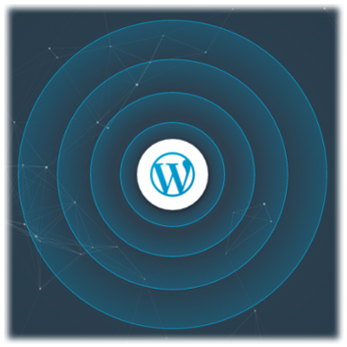 Calypso is the new open source WordPress.com admin interface, that basically allows you to easily manage your WordPress.com blogs. In comparison with the previous admin interface, Calypso is faster, a lot faster. Speed being the most important feature, Calypso comes with more features like a newly designed, clean interface, responsive behavior, real time updates, managing multiple sites, social integration, following other sites (RSS), desktop apps, and usage of the Jetpack plugin to use the Calypso interface on your self-hosted WorPress site.
How does Calypso work?
Calypso is a front-end interface, built using JavaScript (and libraries like React and Node), that is designed to communicate via the WordPress.com REST API (which is open source), to the WordPress PHP/MySQL back-end. The WordPress.com API provides and consumes raw JSON data, which is consumed and provided via Calypso. In other words; the WordPress.com server provides the raw JSON data, which Calypso consumes via the API, and vice versa.
How do users and the community respond to Calypso?
Since the release of the editor, there are many people complaining about the new editor. There is a topic on the WordPress.com forum specially made for complaining about Calypso, called 'Editor Feedback', which currently has 25(!) pages filled with feedback and complaints. Lorelle VanFossen gave me the great idea to list some of these comments, but there are so many, that I'll stick to one that in my opinion embraces a lot of those comments:
All I want to do is continue with my blog as it is now. I don't appreciate other people deciding that the process should be changed.
Just like me, many other people misinterpreted the news about Calypso and thought PHP/MySQL was going to be replaced with JavaScript. Since so many people had misinterpreted this news, I got curious about what Calypso actually is, how it works, and what the benefits of it are. Since I only work with WordPress.org and don't do much with WordPress.com, I decided to ask 16 WordPress experts for their opinion about Calypso by asking them the following questions:
What is your opinion about Calypso (experience/advantages/disadvantages) and how do you think applications like Calypso will affect the future of publishing online?
What do you think about WordPress.com using JavaScript only for Calypso?
Optional, if you're using the open source version of WordPress.org: What do you think about integrating Calypso in your self-hosted WordPress website using the Jetpack plugin, and will you start using this on your own self-hosted WordPress websites?
Let's hear what the actual WordPress experts have to say about Calypso!
16 WordPress Experts
Quickly find the 16 alphabetically ordered WordPress experts and their opinion about Calypso.
A:

B:

D:

F:

G:

J:

K:

L:

M:

P:

T:

W:
The 16 WordPress experts and their insights about Calypso
Awesome!
This roundup was very inspiring and we want to thank all 16 experts for their contribution. We hope that this roundup helps anyone who is looking for more information about Calypso.
Scroll To Top
Get new articles, interviews and roundups delivered to your inbox:
We'll send you our non-commercial newsletter a few times per year.
No SPAM ever, we value your privacy.
✘