How to approve comments automatically in WordPress
Comments are a great way of allowing people to interact with your WordPress website. It might sound as a great idea to automatically approve comments so anyone can place a comment without having to wait before the admin approves them. By doing this, you won't have to approve comments anymore because they will be visible straight away. However, before you approve comments automatically in your WordPress blog, make sure you think about all the SPAM comments and inappropriate comments that will be placed by bots, people who only care about promoting their own website or service, and off course the people who can't behave themselves. If you still want to know the answer to how to approve comments automatically in WordPress, continue reading.
Approve comments automatically in WordPress
The automatic comment approval can be easily activated in the WordPress admin panel under the discussion settings. There are two checkboxes that need to be unchecked in order to approve comments automatically.
Step 1 - Login to the WordPress admin panel, click 'Settings' in the left-hand menu and click 'Discussion' in the sub-menu.
Step 2 - Now look for the section beginning with 'Before a comment appears'. You'll see two checkboxes behind them. Make sure you uncheck them both: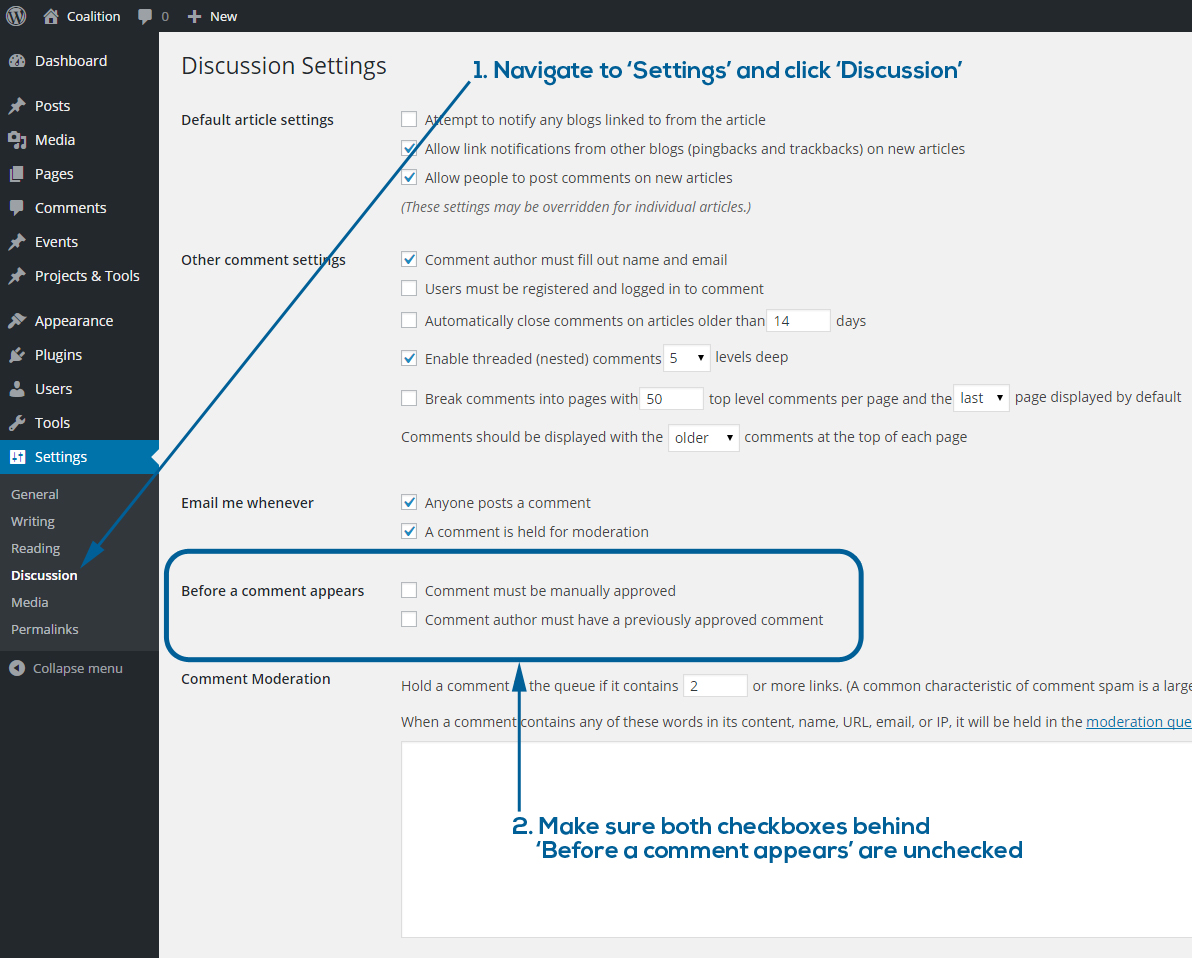 Now WordPress will automatically approve all comments made on your website or blog. Our advice however would be to at least leave 'Comment author must have a previously approved comment' checked-on. This ensures that all comment authors should at least leave one comment that you'll need to moderate before their comments will be automatically approved. This will at least filter all bots. Also please make sure the Askimet plugin is active at all times in order to avoid comment SPAM and use the rel="nofollow" attribute on all comment links.
Was this useful?